For round 18 @
waywardmixes

Fandom: NCIS: Los Angeles
Subject: Kensi/Deeks from the fic Marching On by ZBBZL
Title: Marching On
Warnings: Spoilers for the season 4 season finale. Deeks Whomp.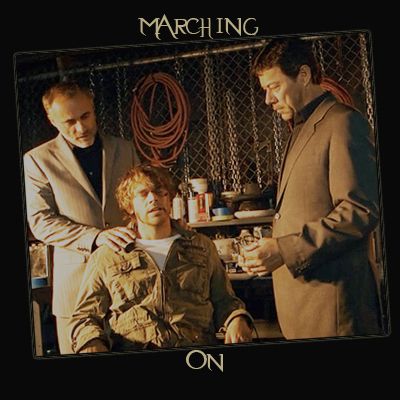 NCIS: Los Angeles is a crime based show much like it's decade long running predecessor NCIS. On this show they investigate military crimes and threats to the safety of America. In the season 4 finale we find our characters chasing a bunch of bad guys that have their hands on some nuclear weapons with intent to sell them. In the final scene we leave two of our lead characters captured, being questioned, and tortured to gain intel on other suspected agents. Our men do not give it up, that we see....
Click here to find MARCHING ON
by ZBBZL
DOWNLOAD ZIP FILE HERE
from the details of fanfiction.net
Timeline
: Set after the events of season 4 finale, "Descent." Contains
spoilers
and
major speculation
about the aftermath of Deeks being tortured.
Summary
: "
And Kensi be damned if she doesn't do everything in her power to bring him back. Back home, back to her. Back to who he was before all of this happened
."
"Comfortably Numb" – Dar Williams
Hello,
Is there anybody in there
Just nod if you can hear me
Is there anyone at home
Come on now
I hear you're feeling down
I can ease your pain
And get you on your feet again
Relax
I'll need some information first
Just the basic facts
Can you show me where it hurts
"I Need Some Sleep" - Eels
I need some sleep
It can't go on like this
I tried counting sheep
But there's one I always miss
Everyone says I'm getting down too low
Everyone says you just gotta let it go
You just gotta let it go
You just gotta let it go
"Alibi" – 30 Seconds to Mars
I fell apart, but got back up again
And then I fell apart, but got back up again yeah

We both could see crystal clear
That the inevitable end was near
Made our choice, a trial by fire
To battle is the only way we feel... alive
"Nothing Left To Say" – Imagine Dragons
Below my soul
I feel an engine
Collapsing as it sees the pain
If I could only shut it out
I've come too far
To see the end now
Even if my way is wrong
I keep pushing on and on and on and on
"Tears And Rain" – James Blunt
How I wish I could walk through the doors of my mind;
Hold memory close at hand,
Help me understand the years.
How I wish I could choose between Heaven and Hell.
How I wish I would save my soul.
I'm so cold from fear.
"Set The Fire To The Third Bar" – Snow Patrol
(feat. Martha Wainwright)
I find the map and draw a straight line
Over rivers, farms, and state lines
The distance from 'A' to where you'd be
It's only finger-lengths that I see
I touch the place where I'd find your face
My fingers increases of distant dark places

Their words mostly noises
Ghosts with just voices
Your words in my memory
Are like music to me

I'm miles from where you are,
I lay down on the cold ground
I, I pray that something picks me up
And sets me down in your warm arms
"Only You're The One" - Lifehouse
I'm with you when the lights go down
Take my hand I'm all yours now
I know you're the only one
That would never lead me on
I'm with you when the lights go down
Cuz you're the one and
Only you're the one and...

The only one
Who keeps it here
In each moment as the voices disappear
"Something I Need" – OneRepublic
I had a dream the other night
About how we only get one life
Woke me up right after two
Stayed awake and stared at you
So I wouldn't lose my mind

And I had the week that came from hell
And yes I know that you can tell
But you're like the net under the ledge
But I go flying off the edge
You go flying off as well