A summer time mix for my winter exchange round at waywardmixes!


for
thethingiswhat

Hope you like it! Sorry it was late things got mega crazier this month than I have ever had for a December!! Also! I may have an extra mini mix for your Hunger Games request in a few days, I started working on that but this one screamed louder! But by new years I will message you that one!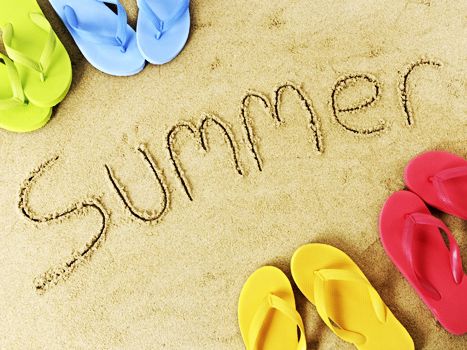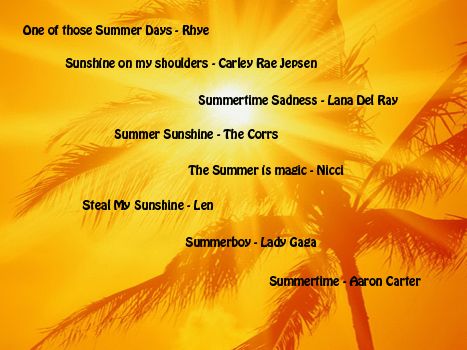 DOWNLOAD ZIP
Summertime Mix!
One of Those Summer Days - Rhye
It's one of those pretty
It's one of those summer summer days
I wish you could see it
It's one of those pretty summer summer days
Sunshine on my Shoulder - Carly Rae Jepsen
If I had a day that I could give you
I would give a day sure to make you smile
Sunshine on my shoulders makes me happy
Sunshine on almost makes me high
Summertime Sadness - Lana Del Ray
I'm feelin' electric tonight
Cruising down the coast goin' 'bout 99
Got my bad baby by my heavenly side
I know if I go, I'll die happy tonight
Oh, my God, I feel it in the air
Telephone wires above are sizzling like a snare
Honey, I'm on fire, I feel it everywhere
Nothing scares me anymore
(1, 2, 3, 4)
Kiss me hard before you go
Summertime sadness
I just wanted you to know
That, baby, you're the best
Summer Sunshine - The Corrs
In the heat of summer sunshine
I miss you like nobody else
In the heat of summer sunshine
I kiss you, and nobody needs to know
Ya da... ya da... ya da
To sweet beginnings and bitter en-dings
In coffee city, we borrowed hea-ven
Don't give it back
Winter is coming and I need to stay warm
The heat.....
The Summer is Magic - Nicci
The Summer is Magic, Is Magic Oh Oh Oh The Summer is Magic You have to
Imagine, Imagine Oh Oh Oh The Summer is Magic.
You know the Summer is Magic, we need to get at it, your face
Is so Beautiful, Beautiful.
If we could just be together no matter the weather I'll make you so Uh
Uh Oh
Steal My Sunshine - Len
And of course you can't become if you only say what you would've done
So I missed a million miles of fun
I know it's up for me
(If you steal my sunshine)
Making sure I'm not in too deep
(If you steal my sunshine)
Keeping versed and on my feet
(If you steal my sunshine)
Summerboy - Lady Gaga
Hey there summer boy
Im taking off my heels
Lets go for a run
Have a little summer fun
Have a little summer fun
Summer boy
Lets get lost you can take me home
Somewhere nice we can be alone
Bikini tops, popping o-o-off
Don't be sad when the sun goes down
You'll wake up and I'm not around
You've got to go oh, oh, oh, oh, oh
We'll still have the summer after all
Summertime - Aaron Carter
So grab your stuff and lets all go outside
Bang your head to this tune in your ride
Leaving all your cares right behind
For the summertime
Everybody's hyped to feel the vibe
Drinks are in the cooler chilled on ice
Lay back and unwind 'cause
Nothing else matters
For the summertime
Had to take a sip of Ma's Homemade
Freshly squeezed lemonade
Check out the honeys in my brand new shades
As they lay on the sand
Topping up on the tans
Take in the scenery
The mood is fine
Nobody's wearing their watches
Nobody's checking the time
There is only one thing that's on everybody's mine
That's the summer the summer
the summertime